Exporting data to SPPS SYNTAX works correctly if we follow the instructions closely.
1. Issues due to the character encoding settings
With some versions of the programme (most commonly version 18), difficulties may arise: the command is not executed and the following error is displayed:

If this is the case, close all SPSS files and re-open the syntax. In the upper left-hand corner of the syntax section, click 'EDIT' - 'OPTIONS' - 'LANGUAGE'. In this window, you will find 'Character Encoding for Data and Syntax' and choose the 'UNICODE' option.
2. Unsuccessful SPSS database generating if the data and syntax files are not located in their default location
Look for the DATA LIST row in the open syntax file. To connect the syntax to the data, instead of entering 'C:\', enter the location of the file that contains the data (example: if we saved our data in the Transfers file within My Documents, we enter DATA LIST FILE=''C:\My Documents\Transfers\survey_data.txt'').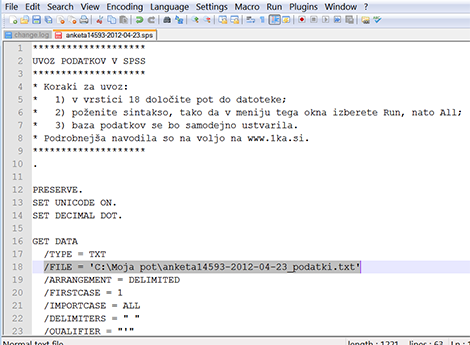 We can locate the exact location of the data file in the following way: open Windows Explorer, right-click on the data file in the menu and select Properties – Location, and enter its location in place of 'C:\'.
In case of any complications (eg- complex surveys with conditions, old versions of SPSS) we recommend you export data into Excel and then import it into SPSS. In this case, you will have to define variables yourself.