To transfer a survey between two virtual 1KA domains, from a virtual domain or your own installation at www.1ka.si or vice versa, please follow the procedure below:
Use your username and password to sign up into a virtual domain or installation, where the survey you wish to download is located.
Click on the survey you want to download and then click on the 'EDIT' – 'Archive' tab.
Select the 'Export' option from the menu on the left. There are 2 options available:

Survey: export empty questionnaire, no answers;
Survey and data: export of the questionnaire along with the respondents' answers.
In both cases, clicking on the 'Save' button to your default directory on the computer will save the file with the suffix ".1ka".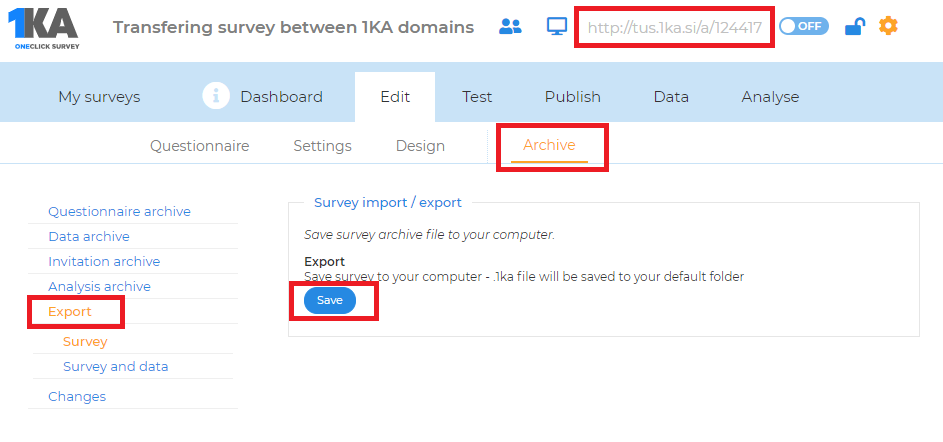 4. Once you've downloaded the survey to your computer, sign up to www.1ka.si (or the virtual domain/installation where you want to upload the survey).
       5. Go to the 'My surveys' tab and click 'Create a survey'. Select the option 'Import ".1KA" format'.
       6. In your directory on your computer, find a file with the suffix ".1ka" (the exported survey) and upload it by clicking the Browse button.
       7. By clicking the 'Next' button, a copy of the survey you wanted to download will be generated from the archive file. If you have exported the questionnaire and the data, the data will also be uploaded (respondents' answers).
When transferring, consider the following:
When copying the survey, not all of the advanced settings (e.g. validation) are transferred, the survey is not activated and so on. Therefore, after downloading, make sure all settings are the same as on the original.
The original version of the survey and the survey copy do not have the same URL. In case the original version of the survey is still active, you have 2 options:

You can change the link to the survey on the pages where you posted the survey (if you sent e-mail invitations, you must send the invitations again – if you want the data to be collected in a newly copied database)
Download the survey or it's data once you have finished collecting the data. Otherwise, you will not have new entries on a copied survey.