WE ARE ANNOUNCING: MASSIVE OPEN ONLINE COURSE ON ONLINE SURVEYING, October 2018
23.10.2018
You are invited to apply to the MOOC (massive open online course), an open mass online course on the subject of online surveying, which will be held in the middle of October 2018. The course will be led by dr. Barbara Brečko from Centre for Social Informatics and is intended primarily for those employed in educational institutions. By participating in the course you will get to know the online survey tool 1KA, get the basic methodological knowledge for creating surveys and you learn how to make simple and slightly more complex surveys and analyse the collected data.
Participation is free. You are kindly invited!
Details about the course can be found here.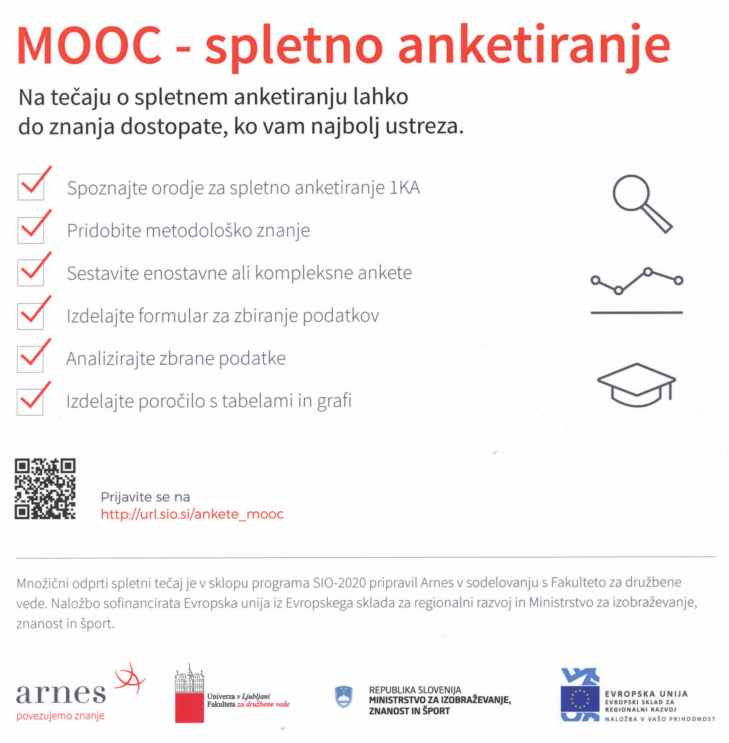 On 30 September 2020, the Centre for Social Informatics, University of Ljubljana, Faculty of Social Sciences organized the Web Survey Day (WSD) for the ninth time. The event is intended for the general professional public users of online survey tools and users of online survey tool 1KA.

We invite you to the "Web Survey Day 2020", which will take place on Wednesday, September 30, 2020, 9.00 -12.30, via the ZOOM platform.

On Saturday, August 22, 2020, the upgrade of the 1KA tool took place, as part of which some significant improvements to the existing functionalities were made. The following should be emphasized in particular:

The University of Ljubljana, Faculty of Social Sciences, is organizing 9th Web Survey Day (WSD) on 30 September 2020.

In addition to payment by cash in advance, card payment is now available to subscribers of 1KA private packages.

For the time being, subscribers of 1KA private packages can only pay by cash in advance when purchasing the package.

On Tuesday, June 30, 2020, a major upgrade of the 1KA tool took place, as part of which many significant improvements were made to existing functionalities and new functionalities were added. The following should be emphasized in particular:

We strive to make the online surveys created in the 1KA tool as easy as possible to complete and also accessible to respondents with special needs. Therefore, we have now upgraded the existing setting for turning on custom icons so that it is turned on by default in all surveys.

Users with AAI access can use the 1KA service free of charge and unlimitedly on Arnes' installation 1ka.arnes.si, which is already active for use.

The installation of the 1KA online survey tool on the www.1ka.si domain will change the operating conditions from 1 July 2020.

At a time when many are working from home due to the coronavirus epidemic, teachers' work and education for pupils and students are also taking place at home, we have seen a significant increase in activity on 1KA.

The number of completed questionnaires on 1KA has increased over the years. It increased by almost six times from 2012 to 2019 (from 376,649 to 2,123,165).

On Saturday, March 7, 2020, a major upgrade of the 1KA tool took place, with many improvements made to existing functionalities and a number of important new functionalities developed. In particular, the following should be noted:

We would like to inform you that regular maintenance work on our server equipment will take place on Saturday, February 29th, 2020.

On Sunday, December 8, 2019, a major upgrade of the 1KA tool took place, with many improvements made to existing functionalities and a number of important new functionalities developed in October and November. In particular, the following should be noted: